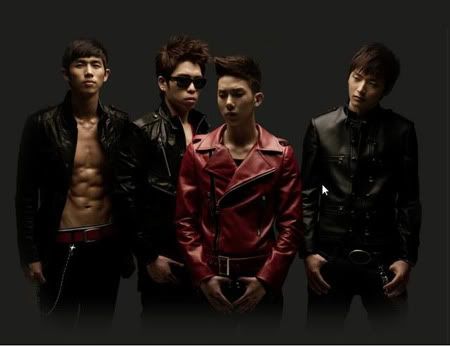 2AM were in Malaysia to paticipate in Kuala Lumpur's MTV World Stage about a month ago on August 15th. They performed at the after party, which was held, literally, at 2AM. Not many fans got the chance to brush shoulders with them, bt a local magazine did get some time squeezed in to do an interview with them.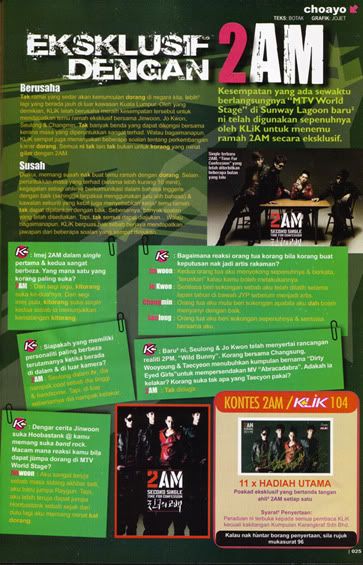 click for bigger
EXCLUSIVE WITH 2AM"FIGHTING"
Many of us didn't notice their appearance in our country, even more those who live outside of the Kuala Lumpur area. Because of that, us KLiK staff worked hard to get an opportunity for an exclusive interview with Jinwoon, Jo Kwon, Seulong and Changmin. We didn't get the chance to share much with them due to limited time, but we did get to ask them about some recent developments in their career. This is all done for you guys, the fans.
"CHALLENGING"
It's admitted that it was hard to interview them because of the limited time given (about 10 minutes), the failure to communicate with the members (we had to get the help of a translator) and the tight security procedures and it all made the interviewing session go a bit rough. We had a lot of questions to ask the boys, but in the end we didn't get to ask them all. Albeit so, we were thankful
(t/n: word translates more like "grateful"?)
to get some answers from them.
KLiK: The image potrayed by 2AM in the first single and the second single is very different from each other. Which one did you guys prefer?2AM:
In terms of the songs, we liked them both. But when it comes to the image, we prefer the one for the second single because it showed more a mature side of us.
KLiK: Who has the most different personality on and off camera?2AM:
Seulong looks cool on TV because he's tall and handsome, but in real life he just looks funny.
KLiK: We heard that Jinwoon likes Hoobastank@you liked rock bands. What was your reaction when you get to see them during MTV World Stage?Jinwoon:
I was really excited when I saw them at the press conference earlier, and I just met Raygun. But I was more excited that I get to meet Hoobastank because I've been a fan of them for a long time.
KLiK: What were you parents' reaction when you guys made the decision to be a recording artist/performer?Jinwoon:
My parents fully supported my decision and said work hard/ give your best if you can make it.
Jo Kwon:
My parents always have been supporting me since I started training under JYP for 8 years before I debuted.
Changmin:
My parents stated to cheer me on when I started to sing well
(?? idk how to re-phrase this)
Seulong:
My parents fully support what I'm doing all the time and they are always with me.
KLiK: Recently Seulong and Jo Kwon joined 2PM for their reality TV Show, Wild Bunny. Together with Chansung, Wooyoung and Taecyeon you guys made up a group called "Dirty Eyed Girls" to make a parody of the "Abracadabra" MV. Was it funny? Didn't you like what Taecyeon was wearing?2AM:
It was unexpected.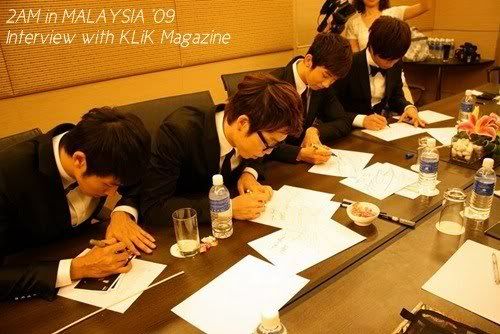 Sorry for the funny language. The magazine used some casual words and some sentences were kinda confusing to translate, lol.
Source: Me and my scanner
Pictures:
k-popped